Tomorrow, the Baseball Hall of Fame will open up their hallowed gates for the class of 2017. It looks like we will have two new Hall of Famers, as former Astros slugger Jeff Bagwell and speedster Tim Raines appear to have gained enough votes for enshrinement. Ivan Rodriguez, Vladimir Guerrero and Trevor Hoffman all look like they will be very close, and it's possible one or more of them get inducted as well. However, that means there will be 30 or so players who DON'T get inducted this year, many of whom this will be their first, and last, time on the ballot. But before these players fade back into anonymity, I want to focus on one in particular, a player who won't (or at least shouldn't) get any votes for the Hall of Fame, but has always been a personal favorite of mine. That player is former Baltimore, Seattle, Cincinnati, Philadelphia, St. Louis (deep breath), Oakland, Texas, Cleveland, and Florida lefty Arthur Rhodes.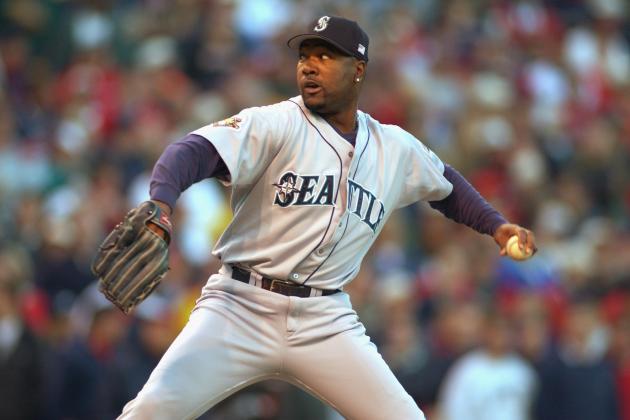 To be clear, this isn't going to be a blog advocating for Arthur Rhodes and the Hall of Fame, like most of my blogs are. Non-closing relief pitchers are probably never going to be in the Hall, unless of course they make their own relief pitcher Hall of Fame, in which case Rhodes is a first ballot guy.
8 teams and 3 million years ago when Rhodes came up with the Orioles, they tried him out as a starting pitcher. He started 61 games over four years with the O's, with less than stellar results. Although he did manage to throw 5 complete games, (3 of them shutouts) his 18-22 record, 5.81 ERA, 1.58 WHIP, and 1.46 K/BB ratio didn't inspire a lot of confidence, so they tried him in relief. The rest, as they say, is history. Rhodes threw 839 games and 865.2 innings out of the pen, with a much more respectable 3.43 ERA, 1.20 WHIP, 2.62 K/BB ratio, and 9.3 K/9.
Rhodes ended up pitching in 900(!) games in his 20 year career, good for 25th all-time, and sixth all-time among lefties. Only Jesse Orosco, Mike Stanton, John Franco, Dan Plesac and 'Everyday' Eddie Guardado threw more games than Arthur Rhodes from the left side.
Similarly, Rhodes is 21st all time in K/9, and 12th all-time among lefties. Seven of those lefties are still active, and therefore likely to see their K numbers decline. The five retired lefties who have a higher K/9 than Rhodes are Randy Johnson, Sandy Koufax, Sam McDowell, Johan Santana and Dan Plesac. The case for Arthur Rhodes as the best left-handed reliever of all time is a stretch, as Billy Wagner has that on lock down, with Dan Plesac and John Franco not too far behind. However, the case as the best LOOGY of all-time is a little more wide open.
In fact, taking a look at left handed relief pitchers who had over 500 appearances, but weren't closers, Rhodes stacks up very well. Here's a small chart: (Stats are only as relievers)
Rhodes 3.43 ERA

1.20 WHIP

9.3 K/9 15 WAR

.221/.297

/.349 against
Orosco

3.12 ERA

1.26 WHIP 8.2 K/9

22.9 WAR

.222/.308/

.335

against
Stanton 3.93 ERA 1.35 WHIP 7.2 K/9 13.8 WAR .258/.327/.378 against
Assenmacher 3.50 ERA 1.32 WHIP 8.5 K/9 13.2 WAR .251/.319/.369 against
D. Marte 3.48 ERA 1.26 WHIP

9.5 K/9

10.3 WAR .222/.314/.348 against
S. Kline 3.49 ERA 1.38 WHIP 6.5 K/9 9.9 WAR .253/.333/.379 against
M. Guthrie 3.75 ERA 1.36 WHP 7.6 K/9 9.3 WAR .254/.328/.392 against
Rhodes finishes in first place in WHIP, BA against, and OBP against. He finishes second in ERA, second in K/9 (to Marte, who threw 330 less games than Rhodes) and second in WAR. His only real competition for top LOOGY is from Jesse Orosco. Orosco is first all-time in appearances, and still had a lower ERA and similar batting stats against him. His K numbers were slightly lower, but he threw in 300 more games than Rhodes, and probably deserves the nod for #1 LOOGY of all-time, although you could certainly argue for Rhodes. And even if you take Orosco, no one else is really challenging Rhodes for second place on that list.
So why is the second best LOOGY, and the 25th most used pitcher of all time, a personal favorite of mine? Well, for starters, back in September of 2001, in the midst of the Mariners record breaking 116 win season, I went to my first MLB game. At that game, I went down the first base line to watch the pitchers throw long toss pregame, and Arthur Rhodes came over and signed a card for me, the first autograph I ever got in person at a game. I was big into card and autograph collecting for a very long time, and I have Rhodes to credit for a lot of that.
Outside of personal connections, I have always been fascinated by players who have runs of dominance, and Arthur Rhodes, between 2001-2002, was absolutely out of his mind amazing. For two seasons, Rhodes came out of the Mariners bullpen and was lights out. During those two seasons, Rhodes made 137 appearances, throwing 137.2 innings. Here are the stats for those 137 innings:
18-4, 2.03 ERA, 0.84 WHIP, 164/25 K/BB, 10.7 K/9, 6.56 K/BB, 208 ERA+, 5.2 WAR.
A 208 ERA+ means that for two years, Arthur Rhodes was twice as good as the average pitcher in the league. Simply amazing. 2001 Arthur Rhodes has to be one of the best seasons of all time by a relief pitcher who wasn't primarily a closer. 68 innings, 8-0 record, 1.72 ERA, 0.85 WHIP, 83 K's and only 12 walks. Rhodes only gave up 13 runs all season. His success that season, along with fellow set-up man Jeff Nelson and Kazuhiro Sasaki, helped propel the Mariners to one of the best regular seasons of all-time. Amazingly, Rhodes didn't make an all-star team in either 2001 or 2002, although he did in 2010 as a member of the Cincinnati Reds, at age 40. (For the record, Rhodes had a 2.29 ERA, a 1.02 WHIP and a 179 ERA+ in 55 innings that season).
Tomorrow will be Arthur Rhodes' last day on the Hall of Fame ballot, but I hope that he doesn't begin fading into obscurity, but is instead remembered as one of the best LOOGY's of all time, a position that is ever increasing in importance in a new sabermetric minded baseball world. He should remembered for his longevity and his period of dominance, and not just for his earring incident with Omar Vizquel in 2001.
Thanks for reading!