(
My goal during the 2016 season is to write one blog post per week and publish them every Friday. Many of them will be Hall of Fame evaluations, but I am happy to get feedback on anything you all want to read about, or specific players you would like me to evaluate. Thanks for reading!)
Coming off a 2015 season where he eclipsed 80 RBI's for the 7th consecutive year, and reached 20 home runs for the 11th time in his career, former Twins/Angels/Tigers outfielder Torii Hunter decided to call it a career. The 40 year old finished his 19 seasons with 2452 hits, 353 home runs, 1391 RBI's, 195 steals and a slash line of .277/.331/.461. Hit hitting stats were far above average, but it was his defense that most people will remember, and part of what makes him a contender for the Hall of Fame.
For Torii Hunter and the Hall of Fame: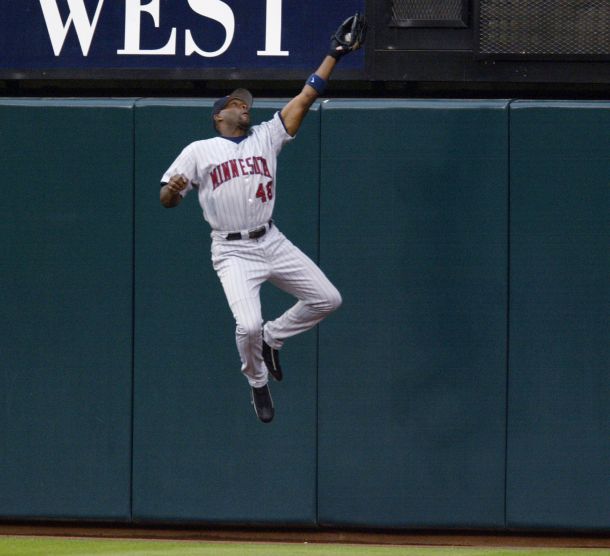 A list of position players with 9+ Gold Gloves and over 350 home runs includes Mike Schmidt, Willie Mays, Ken Griffey Jr, Andruw Jones, Al Kaline and Hunter. Everyone on this list is a HOFer except Jones, who is not eligible yet. Torii had a rare gift to blend outstanding defense and blazing speed with raw power, and very few other players can match those skills.
Hunter ranks in the top 100 all-time in numerous hitting categories, including total bases (80th), doubles (63rd), home runs (90th), RBI's (80th), and extra base hits (69th). Additionally, his power-speed #, calculated by Bill James, ranks 49th all time, ahead of guys like Mickey Mantle, George Brett and Carl Yastrzemski. Simply put, Torii was one of the best hitters of his generation and played long enough at a high enough level to accrue offensive numbers that rival some of the greatest of all time.
Defensively, Torii was a wizard in the outfield. Nicknamed Spider-Man, Hunter was known for his ability to get to almost anything in the outfield, and of course for robbing numerous home runs, including infamously taking away a home run from Barry Bonds in the 2002 All-Star game. Hunter will be remembered as one of the best defensive centerfielders of all-time. Despite having played in the same era as Jim Edmonds, Andruw Jones and Ken Griffey junior, Hunter was able to stand out as one of the true great centerfielders of his era, and of all-time.
Against Torii Hunter and the Hall of Fame:
Torii Hunter does not stack up favorably to the centerfielders who have already been enshrined in Cooperstown. The average Hall of Fame centerfielder has a 71.1 WAR, a 44.5 seven year peak WAR, and a JAWS score of 57.8 (more explanation of JAWS
here)
Torii's numbers for comparison are a 50.3 WAR, a 31.2 seven year peak WAR, and a 40.6 JAWS score. All of these fall considerably short of what Hall of Famers look like at his position, and his closest comparisons are Devon White, Brett Butler and Ellis Burks. All great players, none whom are in the Hall of Fame.
Torii was a great hitter, but he was never the best centerfielder in the league, and he never led the league in any hitting categories. Being the best in the game is not a requirement for HOF enshrinement, but Torii only finished top ten in MVP voting once, and was never truly a "dominant" player.
The Hall of Fame is primarily made up of 3 types of players; guys who were purely dominant for a period of time, (Ralph Kiner only played 10 seasons, but led the league in home runs in 7(!) of them) the "compiler" AKA guys who reached big career milestones after having very lengthy careers (Craig Biggio eclipsed 3000 hits in his 20th MLB season, 9 years after his last All-Star game appearance) and the third type, which is a combination of both (reserved for the true greats; Mays, Aaron, Mantle, Musial etc.)
Hunter doesn't fit well in any of these categories - he played 19 years but didn't reach any HOF milestones (500 hits short of 3000, 150 home runs short of 500, 600 RBI's short of 2000). Likewise, as I stated earlier, Hunter never led the league in any hitting categories, and his "Gray Ink" score (which measures a player based on top ten finishes in various hitting categories) is 29, whereas the average Hall of Famer has a score of 144.
Hunter's closest statistical counterparts, according to baseball-reference, are Chili Davis, Dave Parker, Carlos Beltran, Carlos Lee and Dwight Evans. Beltran has a chance of gaining enshrinement once his career is up, but Davis, Parker, Lee and Evans are all not Hall of Famers. Hunter seems to fit in more with this group than with HOF outfielders like Kirby Puckett, Andre Dawson and Jim Rice.
Verdict:
Torii was a great baseball player, but he falls short of being Hall of Fame caliber in my opinion. There are a lot of outfielders who I think are more deserving than him who have not gotten their due, including Jim Edmonds, Larry Walker, Kenny Lofton and Tim Raines. Hunter was a great centerfielder, but does not cross over into the echelon of Hall of Famer in my book.
Prediction:
Predicting what the Hall of Fame voters will do has become more and more challenging, especially trying to look five years into the future, when Hunter will be eligible. However, seeing as Jim Edmonds got bumped on his first year on the ballot I don't see a lot of hope for Hunter, who wasn't quite as good as Edmonds was. On the flip side, a lot can change in five years and Hunter was a very popular player during his career. I don't see that alone being enough to get him into Cooperstown, however.
Thanks for reading! Feedback is always appreciated.