Well, its December again and that means that conversation will turn to the 2015 Baseball Hall of Fame Ballot, and voters will be deciding who they do and do not want inducted into Cooperstown. A new rule change takes place this year, with players only allowed to be on the ballot for ten years, as opposed to the previous 15 years allowed.
Lee Smith
,
Alan Trammell
and
Don Mattingly
all will be allowed to stay on the ballot until they reach the 15 year plateau (for Mattingly that is this year) but this move severely impacts both
Mark McGwire
(9th) and
Tim Raines
(8th) who now only have one and two years left, respectively, as opposed to the six and seven they would have had before.
Additionally, this ballot provides a boat-load of new talent, including three excellent arms in
Pedro Martinez
,
Randy Johnson
, and
John Smoltz
, and some great hitters such as
Carlos Delgado
,
Jermaine Dye
,
Brian Giles
and
Nomar Garciaparra
. So without further ado, let's look at this ballot and discuss.
With every ballot, the first step I always take is to find the "ballot fillers", guys who have virtually no chance of making the Hall, and will almost certainly get below the 5% necessary to remain on the ballot. For this year, that list includes:
Rich Aurilia
Aaron Boone
Tony Clark
Darin Erstad
Cliff Floyd
Tom Gordon
Eddie Guardado
Troy Percival
Jason Schmidt
All fine players, none who are deserving of Hall of Fame consideration (The only one on this list who I would investigate further would be Troy Percival, but relievers need to be very top tier in order to get enshrined, and Percival was not quite there).
We are now left with 25 names, and only ten spots on the ballot. I'll go ahead and eliminate a few more in a "Close but no Cigar category". These are guys who are very talented, and who I could easily see gaining votes, but who I believe fall short of being Hall of Famers.
Jermaine Dye
Nomar Garciaparra*
Brian Giles
Don Mattingly
Lee Smith
*I wrote a good piece about Nomar Garciaparra's candidacy on my old blog, the link can be found
here
.
20 names, ten spots left. At this point I have to acknowledge the elephant in the Hall of Fame voting "room", the steroid users. The voting rules for the Baseball Hall of Fame state this:
"Voting shall be based upon the player's record, playing ability,
integrity, sportsmanship, character,
and contributions to the team(s) on which the player played".
Because of this, I do not believe in voting for players who are admitted cheaters to the game of baseball. This becomes tricky, obviously, as there is a good chance certain players will be inducted (or have already been inducted) who did steroids, while guys like Bonds and Clemens will not get in. I know it is a sticky situation, but if I had a ballot I would leave off the players who are known steroid users, in order to give my vote to other deserving players who did not cheat (or at least were not caught). So this eliminates:
Barry Bonds
Roger Clemens
Mark McGwire
Gary Sheffield
Sammy Sosa
15 names, ten spots. This is where things become tricky. At this point, the names that are left (
Jeff Bagwell
,
Craig Biggio
, Carlos Delgado, Randy Johnson,
Jeff Kent
,
Edgar Martinez
, Pedro Martinez,
Fred McGriff
,
Mike Mussina
,
Mike Piazza
, Tim Raines,
Curt Schilling
, John Smoltz, Alan Trammell, and
Larry Walker
) are all worthy Hall of Fame candidates, at least in my opinion. However, the rules state that I can only vote in ten players, so the cutting ceremony must begin. As I re-read the rules for enshrinement, the statements about integrity and character jump out to me. Jeff Kent, the most powerful second basemen of all time, gets bumped off my ballot simply because he did not respect the game of baseball, was gruff and disrespectful to the media, and was a very poor teammate. I believe that he deserves to be in the Hall of Fame, and if I had more room I would vote for him, but with my ballot already feeling crowded I can't in good conscience vote for him over other deserving players. That leaves me with 14 guys.
Here is who I would select, out of my pool of 14 players remaining, as Hall of Famers for the 2015 class, presented in alphabetical order: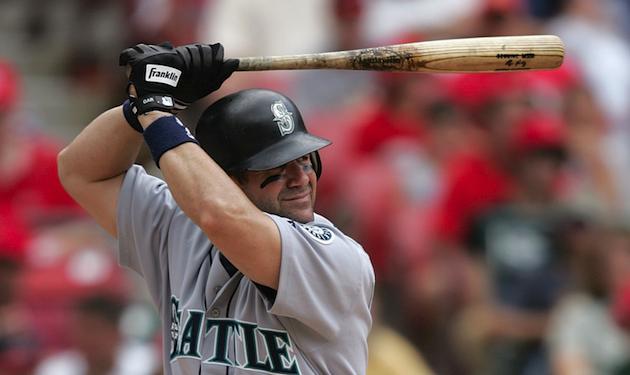 Jeff Bagwell
- 449 home runs and an OBP of .408 make Bags a surefire HOFer.
Craig Biggio
- over 3000 hits, 5th all-time in doubles. Shame he did not get in last year.
Randy Johnson
- No-Brainer, quite possibly the best LHP of all time, Unit will be a first ballot guy no doubt.
Edgar Martinez
- Best DH of all-time. His hitting numbers are simply outstanding. Absolutely no reason he gets punished for playing a legitimate MLB position. It's time to change this vendetta against DH's. Thomas started it last year, it's Edgar's turn now.
Pedro Martinez
- Another no-brainer, Pedro was simply electrifying. I look forward to hearing his HOF speech.
Fred McGriff
- A 1994 strike away from having over 500 home runs and a 4 year old plaque in Cooperstown.
Mike Mussina
- Moose was absolutely dominant, and his 270 wins and 3.68 ERA are among the best of the steroid era. Him and Schilling were very close, but I give a slight edge to Moose.
Mike Piazza
- Best hitting catcher of all-time. Most HR by a catcher dwarves his very average defense behind the dish.
Tim Raines
- Career OBP of .385 is obscene. If not for
Rickey Henderson
, the rock would have been considered one of the best lead-off hitters ever, but he was constantly overshadowed. (Drug problems may be costing him some votes as well).
John Smoltz
- The modern day
Dennis Eckersley
, Smoltz had over 3000 K's while playing a few seasons as a closer. His 213 wins and 154 saves prove his dominance both as a starter and out of the pen.
With tremendous respect to the 473 home runs hit by Carlos Delgado, the 3116 strikeouts and one bloody sock by Curt Schilling, the 70.4(!) WAR by Alan Trammell, and the amazing five tool talent of Larry Walker, they will have to wait until the ballot clears up a bit more to get my vote (which is frightening for Trammell, as he does not have a lot of time left).
For what it is worth, if I had to predict who I think will go in next year, I would say that Randy Johnson, Pedro Martinez, and Craig Biggio will all be inducted next year. I think Jeff Bagwell, Mike Piazza and John Smoltz will all receive over 50% of the votes, but not enough to get in.
As always, I love having conversations about this topic. The ballot nowadays is rife with talent, and while the Hall of Fame voting has been filled with controversy surrounding Bonds and Clemens, I always welcome conversation about any of the candidates. Thanks for reading, please leave comments!